Try any of our products and if not 100% satisfied within 14 days we will refund you.
Professional acupuncture benefits without needles using a 'touch and treat' method. Non-invasive, pain free treatment. Treats a wide range of ailments and injuries. No-risk, 2-week trial. So effective, we've never received one back! 2 Year's Money-Back Guarantee. After 2 Years, Half-Price Guarantee for Life!
£97.47 £149.95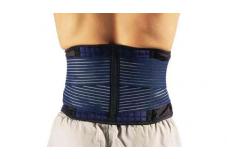 Back Support with 20 magnets and velcro fastening.
Health Connection combines the benefits of magnetics with banded support compression. Natural, Centrury-old pain therapy redefined by today's newest technology and design. Used and endorsed worldwide by countless professional sports athletes.
£30.12 £44.95
Magnetic bracelets in high quality stainless steel with magnets in every link, well known for helping aches and pains. Ideal gift for family or friends all magnetic bracelets supplied in a presentation box.
£31.99 £39.99