Try any of our products and if not 100% satisfied within 14 days we will refund you.
The Ultimate Massager with 16 Massage Settings! Easy to use for self-massage. Stimulates deep into the muscles. Use for 2-3 minutes for benefits. Heat option for enhanced effectiveness. Very effective and highly recommended. With a 2 Year Guarantee.
£99.98 £249.95
Professional acupuncture benefits without needles using a 'touch and treat' method. Non-invasive, pain free treatment. Treats a wide range of ailments and injuries. No-risk, 2-week trial. So effective, we've never received one back! 2 Year's Money-Back Guarantee. After 2 Years, Half-Price Guarantee for Life!
£97.47 £149.95
For horse & rider.
Fully recommended in the equine world by top level riders in dressage, show jumping, eventing and racing who use the horse massage unit on themselves as well as their horses.
£99.98 £249.95
Back cushion is a must for relieving your back or shoulder pain at home, office or in the car. The lumbar massaging cushion is easy to use, plug into the mains or cigarette lighter socket in the car. 5 programmes with optional intensity and speed settings
£54.90 £90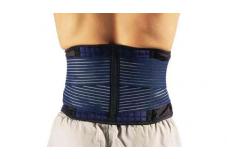 Back Support with 20 magnets and velcro fastening.
Health Connection combines the benefits of magnetics with banded support compression. Natural, Centrury-old pain therapy redefined by today's newest technology and design. Used and endorsed worldwide by countless professional sports athletes.
£30.12 £44.95
Magnetic bracelets in high quality stainless steel with magnets in every link, well known for helping aches and pains. Ideal gift for family or friends all magnetic bracelets supplied in a presentation box.
£31.99 £39.99